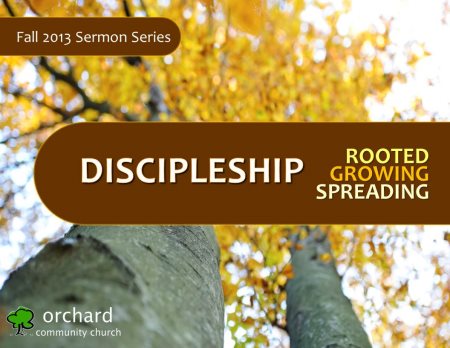 "Follow me…" These were the first words Peter heard Jesus speak (Matthew 4:19) and were also some of the last (John 21:19). Being a disciple means being one who has answered the call to follow Jesus. Discipleship is a life-long process of following Christ, getting to know Him better, and learning to obey Him and live for His glory.
The goal of this sermon series is to help us better understand that Jesus is calling us to follow Him. We have broken down this call into three parts. It is the call be ROOTED in God, to be GROWING in faith and to be SPREADING the gospel through service and evangelism. This is the pattern for every disciple of Jesus. There is only one way to have a relationship (or be "rooted") with God and this is through the death and resurrection of Jesus Christ. Once in that relationship, God wants every believer to grow in our relationship with Jesus and not stay spiritual infants. As we grow in this relationship, we learn to step out and serve for the cause of God's Kingdom in this world.
Most recent sermon is on top.
sorry, but there was no recording made of the sermon on October 20, 2013.
Spreading Through Worship

Final Discipleship series sermon. Sorry for the occasional distortion.

Spreading Through Service

The gospel spreads in our lives and through us to the world as we step out in faith to serve wherever God leads.

Spreading Through Evangelism

As we grow as disciples of the gospel of Christ, the gospel also spreads in our lives and through our lives in Evangelism

Discipleship Overview

Dan was asked to fill in for Pastor Dave who was unable to preach due to an injury the day before. This sermon is a good overview of the to... [

more

]

Growing in Maturity

This sermon from Colossians 1:3-8 looks at the importance of growing in maturity as believers as well as four key marks to show us we are gr... [

more

]

Growing in New Life

Through the gospel we are new creations in Christ, yet it is so easy to fall back into old ways of living. This sermon looks at Ephesians 4... [

more

]

Growing in the Gospel

As we grow in our relationship with God, we do not leave the gospel behind. Our growth comes through the gospel.

Rooted in God's People

The church is not some optional help in our relationship with God.

Rooted in God's Word

The Bible is God's truth and the standard for all truth. If we are to truly follow Christ and grow in our relationship with God, we must be... [

more

]

Rooted in God's Life

A tree is only as strong as its roots and the same is true of a follower of Christ. We begin our series by looking at being Rooted in God's ... [

more

]