Seeing Clearly: Revelation Sermon Series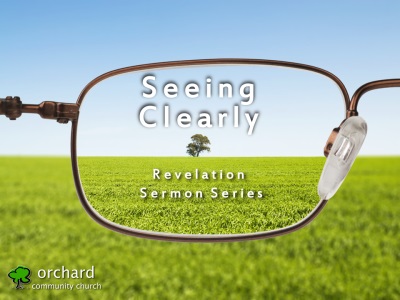 There are terrifying moments when you are driving in a storm and the windshield is so covered by rain or snow that you cannot see anything in the distance. Then the wipers move across the window to clear away the mess so you can see clearly again. We have the same problem in our lives. We get so caught up with what is right in front of us and the immediate pressures of this world that we fail to see that God has always been at work, is at work in our situations right now, and even has the future already planned.

The book of Revelation is a message to us about what God has been doing, is doing now, and will do in the future so that we can clearly see through the clutter of this world and trust in his power and eternal plan.

In this sermon series we will examine the intricate details of Revelation as well as step back to look at the sweeping themes that make up this incredible book. This sermon series is not about determining the date of or the proper sequence of events leading up to the end of the world. It is about allowing God to wipe away the clutter of this present world that distorts our vision so that we can clearly see and trust in God's eternal plan that is centered on the all-powerful King, the Son of God who gave his life in our place, Jesus Christ.

Sermon notes and daily devotionals will be distributed each week through the weekly worship bulletin. Series notebooks to store notes and devotionals are available in the church foyer.

Sermons are listed with the most recent one on top.
Seeing Clearly - Series Conclusion

An overview and conclusion to the Revelation Sermon Series

Living with the End in Sight - Revelation 22:6-21

Revelation 22:6-21 says that we should live with the expectation and the hope that Jesus is coming soon.

Return to the Garden - Revelation 22:1-5

The Bible ends by returning back to the beginning, the Garden of Eden, but with one big change. In Christ, there is no more curse or threat... [

more

]

Welcome to the House of God - Revelation 21:9-27

God has created a new place for us to be with him forever and one day we will hear him say, "Welcome home!"

Making All Things New - Revelation 21:1-8

God declares he is making all things new!

In a Perfect World - Revelation Chapter 20

A look at a some false ideas we have accepted that are corrected by Revelation Chapter 20.

Two Women, Two Invitations - Revelation Chapters 17-19

There are two women contrasted in this passage of Revelation and both receive an important invitation.

Mounting Evidence - Revelation Chapters 15 and 16

The End Times will make the sinfulness of the world and the justice of God absolutely clear.

Experiencing the Presence of God - Revelation Chapter 14

Revelation Chapter 14 tells us that two groups will experience the presence of God in very different ways.

Get with the Plan - Matthew 13:24-30, 36-43

Jesus tells a parable that fits well with our sermon series on Revelation.

The Frog and the Kool-Aid - Revelation Chapter 13

Desperate people do desperate things. This is clearly seen in Revelation chapter 13 as the world is willing to follow an evil leader. This... [

more

]

The Great War - Revelation Chapter 12

What if you woke up in a war zone? Would you go shopping or hand out at the local coffee shop? This chapter challenges us to realize that ... [

more

]

The Answer to the Greatest Prayer Ever - Revelation 11:14-19

Jesus taught his disciples to pray that God's kingdom would come and God's will would be done on earth as it is in heaven. Here in Revelati... [

more

]

Overview of 1st Peter

Guest Preacher Marc Vellake presents an overview of 1st Peter which he has been teaching in one of our Adult Sunday School Classes

No Recording Available

On this Sunday we had a another guest speaker since Pastor Dave was out of town. Sorry, but no recording was made.

Anchor of Hope in Troubling Times - Revelation 11:1-13

Is God faithful? As we go through difficult times in our lives and in our world, we can begin to doubt God's faithfulness. This Sunday's s... [

more

]

Sweet and Sour Message - Revelation Chapter 10

God's plans are wonderful, but they are not always easy.

Severe Grace - Revelation 8:6 - 9:21

Grace is amazingly good, but it is also sometimes severe. This week we look at a difficult passage about the harsh judgment of God that is ... [

more

]

Cleaning House - Revelation 8:1-5

Throughout Scripture God has given his people information about what it takes for a Holy God to be with sinful people. This sermon traces t... [

more

]

Able to Stand - Revelation Chapter 7

Revelation Chapter 6 ends with an important question - who will be able to stand when God brings about his plan? Revelation Chapter 7 is th... [

more

]

Living the "Altared" Life

This week we took a break from our Revelation Sermon Series. Marc is a young man who has been training with the Senior Pastor to develop hi... [

more

]

The Goal of a Mother - A Unique Mother's Day Sermon from Revelation Chapter 9

What do the Four Horsemen of the Apocalypse, the martyrdom of Christians, and the End of the World have to do with Mother's Day? More than ... [

more

]

Christ is Worthy!

This week we finish chapter 5 as we look at the extreme worthiness of Christ for all of our worship, our devotion, our time, our energy, our... [

more

]

The Lion, the Lamb, and the Empty Tomb - Easter 2014, Rev. 5:1-6

A Revelation sermon on Easter? Absolutely! Revelation 5:1-6 presents Jesus as the only one worthy to carry out God's plans because of his ... [

more

]

The Purpose of Everything - Revelation 4:4, 6-11

This passage is a scene in heaven that shows us the reason for which everything exists.

Beyond Description - Revelation 6:1-3, 5-6a

Have you ever seen something so amazing, so incredible, and so overwhelming that it is difficult to put into words? Imagine how hard it was... [

more

]

God's Holy Presence

This Sunday we stepped away from the book of Revelation to trace this important theme throughout Scripture so that we can understand its imp... [

more

]

Not Made by Human Hands - Revelation 3:14-22

There is a big difference between what happens when we make much of ourselves and when Christ is present and makes much of us.

The Open Door - Revelation 3:7-13

This is a re-recorded version of the sermon because no recording was made on Sunday morning.

Signs of Life - Revelation 3:1-6

This passage includes the call to "Wake up!" which is so appropriate for the morning after the time change. Sardis was a church that looked... [

more

]

Endure in Truth and Holiness - Revelation 2:18-29

Idolatry seems like such an archaic issue, yet this sermon looks at how we still struggle with this issue today, just like the church in Thy... [

more

]

Endure in Faith and Faithfulness - Revelation 2:12-17

It is tempting to look at only what is right in front of us, but God's Word calls us to an eternal perspective. In this passage, the church... [

more

]

Endure in Hope and Suffering - Revelation 2:8-11

The little church in Smyrna was facing horrible opposition. Christ encourages them to edure by holding on to the hope that is certain in Hi... [

more

]

Endure in Truth and Love - Revelation 2:1-7

This letter to the church in Ephesus within the letter of Revelation challenges us to live a truthful love and a loving truth.

The Powerful Presence of Christ - Revelation 1:9-20

We learn a lot from how John describes how he sees Christ and then responds in this passage. This sermon begins with a time of Pastor Dave ... [

more

]

One Who Is, Who Was, and Who Is To Come

This sermon looks at Revelation 1:4-8 which describes God as "the one who is, who was, and who is to come." The God who is at work in our p... [

more

]

Coming Soon... Revelation 1:1-3

These first three verses challenge us to live with urgency and excitment because Jesus is coming soon.

Seeing Clearly - Series Overview

An introduction to this sermon series on Revelation